The supply chain is not a fixed system. It's ecosystem constantly evolves and that is why a good supply chain company is the one that innovates often and pivots. Especially now, when supply chain management technology is a major factor in measuring growth, supply chains these days are dynamic.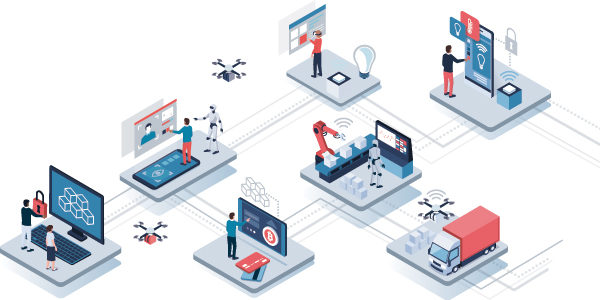 There's always something or the other being improved, improvised or interchanged in the value chain and that's the reason why we say that the future of supply chains is being transformed globally by the development of a more digitalised environment, where value chains are connected, and distribution systems are increasingly intelligent, autonomous and automated.
Must Read: How Supply Chain Data Builds Competitive Advantage
The advancements in the supply chain technology are expected to realise huge improvements in the flexibility, efficiency and automation of distribution. They are also welcomed by suppliers who are aiming to eliminate unnecessary production costs, improve the transport of goods and services along with their business performance, increase throughput, reduce cycle times and quality maintenance in order to operate in the constantly-changing supply chain networks.
Matthew Burton, Supply Chain & Operations Leader, EY EMEIA, over the past 18 months, leading organisations have developed the ability to rapidly adapt business models and supply chain ecosystems to live with a high degree of volatility and disruption. In many of these cases, driven by necessity, companies used this period to increase their overall investments in digital supply chain technologies and replaced legacy platforms in order to gain end-to-end visibility and bring risks under control.
But, moving into 2022, we expect to see companies move from 'survive' to 'thrive. To accelerate their growth, innovation and investment in the supply chain technology will target winning in the market with new products, service offerings and consumption models. This requires digital technology to build new capabilities around designing for consumer perceived value, driving scale and efficiency through new distribution models and harnessing the power of a full supply chain ecosystem by improving interconnectivity across customers, partners and suppliers.
Also Read: Things to Keep in Mind for the Next Supply Chain Crisis
In 2022, we can expect businesses to continue investing in building the intelligent foundation, improve end-to-end visibility and better enable risk management and decision making when it comes to their supply chains. And as companies continue to build out their existing supply chain technology capabilities, we can expect to see further investments in advanced planning solutions to better sense changes in demand and supply and accelerate the ability to respond, end-to-end control to enable real-time visibility of supply chain performance, risks, opportunities and events and allow leadership teams to make better informed end-to-end decisions, and cognitive automation platforms to make real-time recommendations, predict outcomes and make supply chain decisions autonomously within the context of agreed boundaries and business rules, creating the self-driving supply chain."
We shall also see a renewed interest in revitalising product lifecycle management technologies to support the volume and rate of innovation ramp-up required to meet the ever-increasing consumer need for new products and services. And some other priority technologies expected for 2022 include cloud, digital twins, and augmented reality technologies.
Recommended Read: Is it Possible to Develop a Green Hydrogen Supply Chain?
For more articles like "Future Tech in the Supply Chain Industry", follow us on Facebook, Twitter, and LinkedIn.