Just as data governance is important for all aspects of business, today we're bringing attention to how it plays a crucial role in ensuring an error free and quality controlled supply chain management. With the need to continue competing in the global environment, to rigorously keep up with legal and regulatory compliances and demands, and to avoid any kind of interruptions at all cost, companies are witnessing a surge in data governance opportunities.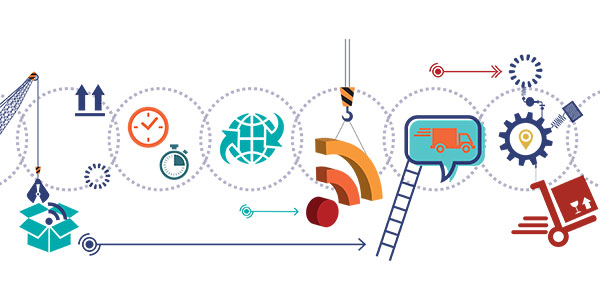 It's also justified! Let's tell you how. In a supply chain, goods and services are consistently on the move. This means that a large quantity of materials, along with data, is being exchanged with a majority of supply chain individuals. So, if the proper data governance business processes and tools are not effectively implemented in your IT environment, even a slight error causes millions in loss of revenue and most importantly, time! Furthermore, as the supply chain grows, the possibility of sharing information with unauthorized networks also increases exponentially. As a result, plans leak to irresponsible parties, and, thus, competitors can easily imitate an innovation.
Must Read: The Blind Spots of Supply Chains and How to Fix it
What Role Does Data Governance Play in Supply Chain?
In the term 'Data Governance', 'Data' is the process of managing the flow of data across business units and participants touching the digital platform, 'Governance' focuses on the integrity and security of data, based on the standards defined by an organization.
Let's talk more about what exactly can data governance help us achieve.
A standard supply chain process revolves around 7 key activities, namely: design, planning, sourcing, production, logistics, financial planning, and reconciliation. So, let's take a tour of how data governance functions in all of these supply chain activities.
Design
Data management tools facilitate design releases and help in distributing design data to various manufacturing sites, which further helps you in managing changes digitally, in a closed loop. With an efficient data strategy, you can reduce nearly 15% to 20% in product cost during the design phase.
Sourcing
While most brands today rely on historical purchase order data and annual supplier performance data to analyze their sourcing health, what they actually need is a well-defined data strategy with which they can track all sourcing activities in real-time just by reviewing the supplier's day-to-day contributions.
Also Read: Real-Time Connectivity in Supply Chain is a Growing Expectation
Production
Performance analysis is another integral step in the product lifecycle. It helps organizations in tracking metrics that help in improving production schedules which further lead to cost benefits. Here are a few examples:
– Compare lead times against sales revenue to efficiently meet demands.
– Track the amount of water and energy consumption per production cycle to measure the reduction of their carbon footprints.
Warehousing and Distribution
With a boom in technology and the ability to analyze data for supply chains, a lot of focus has shifted from taking warehousing initiatives onto enhancing agility and imposing minimum costs on warehousing. With the ability to quickly sense the status of inventory with the demands, you can plan operations in accordance to market needs and save the extra cost of delayed information availability.
Did you know that if you had appropriate data strategies in place, supply chain firms could potentially reduce liability costs by over 20% over three years?
Recommended Read: 5 Tips to Streamline Your Supply Chain
For more articles like "How is Data Governance Important for Supply Chains?", follow us on Facebook, Twitter, and LinkedIn.