As the pandemic continues to spread, retailers are continuing to step up with their efforts to provide consumers with goods and protect the health and well-being of all communities.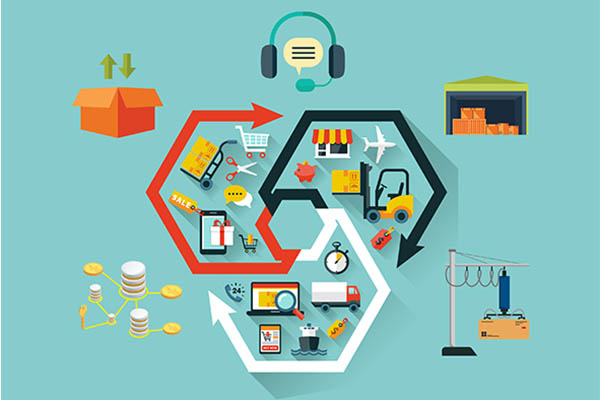 In order to pull through, retail supply chains found that it was important to face industry challenges that required extraordinary measures to ensure that goods continued to be delivered to consumers, no matter the outcomes of the pandemic. So, to mitigate the short-term fallouts, supply chain leaders began creating transparency and built rapid response capabilities. This built a structure for the industry to meet the rising demands across all categories of products like groceries, quick-service restaurants, apparel, footwear, electronics & appliances, accessories, etc.
But while thinking to create transparency, the supply chain industry faced challenges like constantly shifting customer demand, restrictions, and potential material shortages among others. This brought retailers to the conclusion that they must rapidly adapt digitized solutions to their supply chain operations in order to overcome these challenges as also to thrive in unprecedented times like the pandemic.
Must Read: The Influence of COVID-19 on Supply Chain Planning Transformation
So, let's take a look at the top five priorities for retail supply chains that can help in mitigating risks:
1. End-to-End Visibility
In 2021, supply chain resilience is a top priority. And like we mentioned earlier, the only way to go around it is by optimizing operations and maintaining business continuity with the help of digital technologies. So, the first thing supply chain leaders need to attain resilience is real-time actionable insights, a.k.a, End-to-End Visibility.
Now, the barriers that stand in the way of viewing data include supplier complexity, siloed systems, batch ERP data, and high risk of errors, all of which are crucial for analysis and to make better supply chain decisions. The solution here is Supplymint. It uses a combination of technologies to maintain the quality of products that the company delivers by providing absolute transparency throughout the supply chain. In India, companies like V-Mart and Style Bazaar have successfully begun leveraging the use of Supplymint to track the movement of products in real-time with trust.
If you have the data and you can see it to act quickly, that's a game-changer for your supply chain.
2. Omnichannel Fulfillment
Retailers could have never imagined the turbulence of last year when they were forced to close their doors temporarily. But, options like curbside pickup were the ones that helped the industry in meeting customer needs like groceries, medicines, etc, and kept the inventory moving. Now, while some retailers struggled to get through the rough patch of disruptions, other retailers were able to pivot more quickly and easily only because they had the right order management systems in place.
3. Optimized Inventory Planning
Just like other important factors, supply chain inventory optimization is another important facet of supply chain resilience. Especially in times of a global pandemic, what retailers need most is a proper method of managing raw materials, components, finished products, warehousing, and processing while also considering all demand and supply volatility situations. To give you an example, Skechers is a company in India that easily managed its inventory management digitally throughout the pandemic over Supplymint. They managed to reach the right consumers at the right time, without wasting any of their resources.
Interesting Read: The Importance of End-to-End Transparency in Supply Chain
4. Vendor Collaboration
Due to surging demand for essential non-discretionary goods during COVID-19, retailers faced network-wide shortages. To combat these circumstances, retailers worked closely with companies across their vendor bases. And once the demand for other products also picked up, all retail companies focused on building stronger relationships with their vendors in order to meet requirements and keep their business growing.
For Instance, Style Bazaar successfully managed to build stronger relationships with its vendors all throughout 2020 with the means of Supplymint's DigiVend.
5. Digitization
Digital Transformations have played a significant role during times of COVID-19. It has not only managed to keep companies going but has become an integral part of making customer experiences better. With solutions for omnichannel stores and digital supply chain solutions, retailers all across the globe have managed to keep up with the demanding pace of order fulfillment successfully.
Conclusion: It has become necessary for all retailers to adopt digitization across their supply chains in order to be resilient. And in the process, it is clear that priorities will be the way to define your path of success.
Recommended Read: The Supply Chain Journey of Skechers with Supplymint
For more articles like "5 Top Priorities for Retail Supply Chains", follow us on Facebook, Twitter, and LinkedIn.