From posing challenges to becoming fundamental to organizations that seek to achieve efficient processes, create business value, and gain a competitive advantage in a sustainable approach, digital supply chains have evolved a lot over the past few years. So much so that real-time connectivity now plays a crucial role in defining the success of digital supply chains.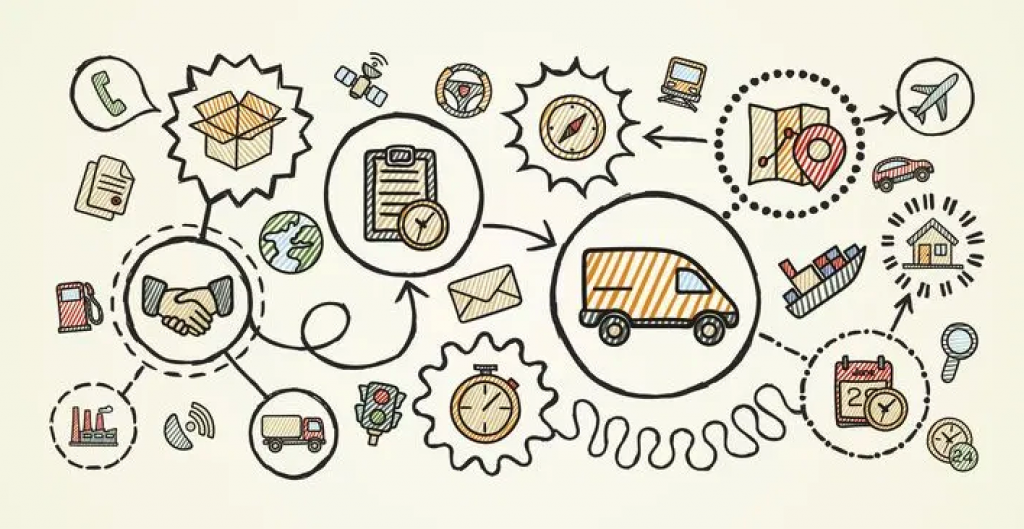 It's the change in the environment that has given rise to new methods in supply chain management such as all-time digital connectivity, interconnection, and interoperability. These methods have now been set as the base example for all supply chain management stakeholders that have to develop new strategies to implement critical technologies and integrate them with their supply chain. But, aren't you wondering why?
Must Read: The Impact of the Fourth Industrial Revolution
The Brief History of Supply Chain Management
Well, supply chain management encompasses planning and management of all activities that are involved in demand planning, procurement, shipment tracking, vendor management, and inventory planning. More importantly, it includes coordination and collaboration with various partners, like vendors, intermediaries, third-party service providers, and customers.
That said, owing to the diverse supplier networks, the number of consumers spread across the globe, the varying compliance requirements, and logistics challenges, supply chains today have become more complex, extensive, and slow. They required careful management and analysis in order to yield the best results and even a slight mistake disrupted the whole cycle. So, with all of that set in motion, companies began facing issues in manually keeping track of all their supply chain activities and the end-to-end visibility of products was becoming tougher. Managers across departments found that it was difficult to monitor the progress of processes, identify causes of delay, monitor productivity, reduce risks, and anticipate trends all at the same time with limited resources.
The Introduction of Digital Supply Chains
This is when the beginning of the digital age dawned upon businesses who then started to expect digital supply chain management solutions that could integrate supply and demand management in ways that companies could fully be aware of all their supply chain movements. These solutions were introduced to resolve a lot of issues out of which visibility played the most crucial role all across the world.
Interesting Read: How V-Mart Reshaped its Manual Demand and Inventory Planning with Supplymint's Automated Solution
If we go back in time, 20 years ago, the supply chain of a typical product company would report to manufacturing, and be responsible mainly for inbound materials management and outbound shipping. But today, supply chain reports to manufacturing in only 6% of companies, while in 61% of companies, the head of the supply chain reports directly to the CEO, GM, or the president of the business. This clears one thing – that the supply chain management has grown and businesses are taking notice of it. In the 21st century, supply chain management has undergone a sea change by embedding product and process innovation in supply chain operations and consciously managing and shaping demand from customers.
With all of that said and done, the inception of COVID-19 came along the revolutionary journey of the supply chain and disrupted the operations of companies that didn't even begin to digitally carry out their supply chains. This is when knowing what's happening in your supply chain became even more vital to business growth. Now, companies are keen on having supply chain leaderships that have the capability to enable access to immediate tradeoffs between service levels and demand in order to make the most precise decisions and adapt to unexpected change quickly. That's where software with supply chain visibility plays a significant role.
Here are more reasons as to why Supply Chain Visibility is becoming a growing expectation:
Transparency
Gaining visibility into the supply chain is an invaluable benefit that ensuring complete transparency throughout all the processes.
Execution
With visibility, it's now easier to get real-time updates about every activity of the supply chain. This enables enterprises to plan and execute strategies more efficiently.
Customer Service
Real-time supply chain visibility helps organizations in delivering and maintaining exceptional levels of customer service which is another important aspect of driving business growth.
Informed Decisions
Supply chain visibility helps business owners in making the right decisions that are 100% backed by data and insights. It ensures organizations in carrying out smart planning, agile operations, and future-proof strategies.
Improved Savings
The availability of real-time data and insights at different stages of the supply chain initiates organizations in keeping track of cost savings and increases revenues in return.
Conclusion: Real-time supply chain visibility is absolutely priceless because it not only helps you in staying on top of things, but keeps you prepared for the unpredictable future with a preemptive outlook. Going forward, trends like automation, data-backed planning and forecasting, and real-time crisis management will prove to be key elements of resolving the disruptors in the supply chain space. This is why improving real-time visibility will continue to be a top priority for forward-looking enterprises that want to accelerate their operations, save costs, and emerge victoriously.
Recommended Read: How You Can Build A More Adaptive Supply Chain
For more articles like "Real-Time Connectivity In Supply Chain: A Growing Expectation", follow us on Facebook, Twitter, and LinkedIn.