Amazon Web Services (AWS) and NITI Aayog on Thursday (18th March) announced a collaboration to train students and empower entrepreneurs on the fundamentals of cloud computing through the Atal Innovation Mission. A statement of intent (SoI) for the same was also signed between AWS and NITI Aayog, which undertakes the resale and marketing of AWS Cloud services in India, to roll out the project.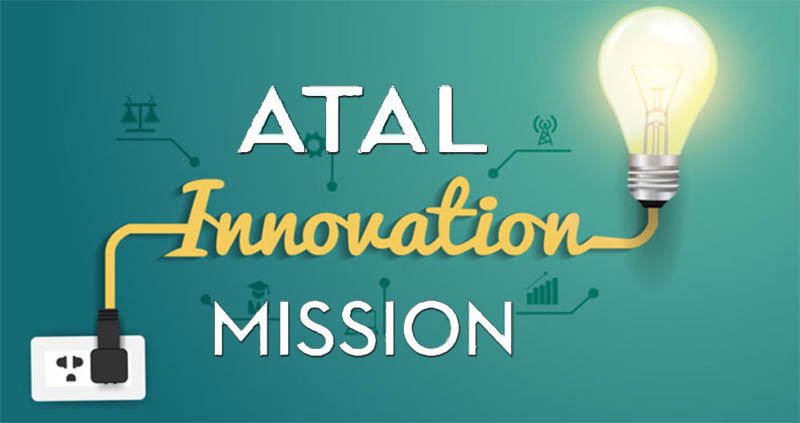 What is the Atal Innovation Mission?
The Atal Innovation Mission (AIM) is the Government of India's flagship initiative to promote a culture of innovation and entrepreneurship in the country. Its objective is to develop new programs and policies that foster innovation in the diverse sectors of the economy, provide platform and collaboration opportunities for different stakeholders, create awareness, and create an umbrella structure to oversee the innovation ecosystem of the country.
The 6 major initiatives taken in the very first year of AIM's establishment include the following:
• Atal Tinkering Labs: With a vision to 'Cultivate One Million children in India as Neoteric Innovators', this initiative aims at establishing Atal Tinkering Laboratories (ATLs) in various schools across our country. The objective is to foster curiosity, creativity, and imagination in young minds alongside inculcating skills such as design mindset, computational thinking, adaptive learning, physical computing, etc.
• Atal Incubation Centers: This initiative aims at nurturing innovative start-up businesses in their goal to become scalable and sustainable enterprises. It also aims at creating world-class incubation facilities across various parts of India with suitable physical infrastructure, availability of sectoral experts for mentoring start-ups, business planning support, access to seed capital, industry partners, training, etc. These centers will also be established in specific subject areas such as manufacturing, transport, energy, health, education, agriculture, water, and sanitation, etc.
Interesting Read: Tech and Cloud Trends to Fuel Business Recovery in 2021
• Atal New India Challenges: This initiative focuses on fostering product innovations and aligns them to the needs of various sectors/ministries. Several researchers have talked about the 'Valleys of Death' at the early and commercialization stages in taking innovations to market. And to address such concerns, the Atal New India Challenge aims to resolve any drawbacks in which innovators are unable to access resources for piloting, testing, and market creation.
• Mentor India Campaign: This is a strategic nation-building initiative that creates a mentor network in collaboration with the public sector, corporates, and institutions, to support all the initiatives of the Atal Innovation Mission. It plans to engage leaders who can guide and mentor students in thousands of Atal Tinkering Labs and startups and incubators for at least 1 to 2 hours every week. These labs are non-prescriptive by nature, and mentors are expected to be enablers rather than instructors.
• Atal Community Innovation Center: This initiative aims at stimulating community-centric innovation and ideas in the unserved/underserved regions of the country that lack a vibrant startup and innovation ecosystem.
• ARISE: ARISE, also called the Aatmanirbhar Bharat ARISE is a national initiative to promote research & innovation and increase the competitiveness of Indian startups and MSMEs. It also focuses on proactively collaborating with the five esteemed Ministries and their associated industries to catalyze research, innovation, and facilitate innovative solutions to sectoral problems.
Catchy Insights: Amazon's Long-Term Growth Plan
Amazon Web Services: A Trusted Partner of the Atal Innovation Mission
Taking notes from the event, R Ramanan, Mission Director at Atal Innovation Mission, said that the collaboration with AWS would equip the talented youth of India with digital and web-based tools that have the ability to enhance their creative and innovative capabilities. He believes that it will also help the nation to grow manifold in its innovation and entrepreneurship network.
AWS will lead to introducing the fundamentals of cloud computing such as cloud storage, virtual compute power, web hosting, artificial intelligence (AI), machine learning (ML), and virtual reality (VR), to students at more than 7,000 ATLs in India and will also conduct Faculty Development Programs (FDPs) for the personnel in-charge at the ATLs. Aside from this, the company will also aim to provide resources and tools at each ATL to expedite student learning and enable them to create and build solutions on the cloud.
Talking about the future, Rahul Sharma, President, Public Sector – AISPL, AWS India, and South Asia, said that India will need nearly 9 times as many digital skilled workers by 2025 as compared to the number today. He added, "AWS is committed to bridging the digital skills gap in cloud computing and empowering entrepreneurs to build innovative products and services on the cloud." He also believes that his company is focused on helping customers deliver transformational change and experiential learning at scale. And talking about the collaboration for the AIM, he said "It is a privilege to team up with Atal Innovation Mission to foster ideation, curiosity, and innovation among India's students and youth."
Recommended Read: The Rising Need for Data Centers in 2021
For more updates like "India launches Atal Innovation Mission for Cloud Computing Upskilling Solutions", follow us on Facebook, Twitter, and LinkedIn.