Supply chain flexibility is becoming increasingly important as companies look to find effective ways to manage their costs and resources with consumer demand as the key focus.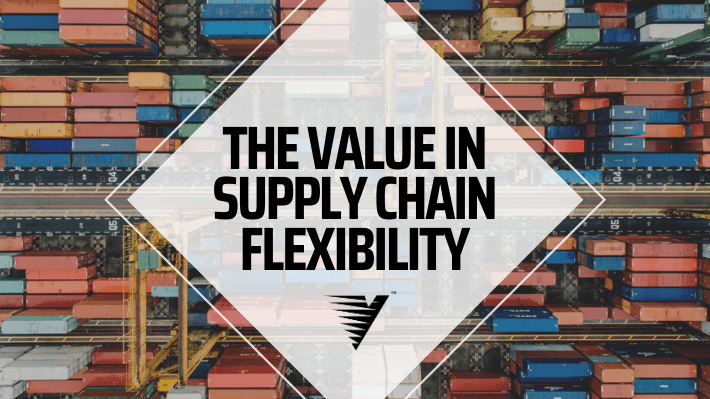 Supply-chain management is a significant area of business that makes it possible for all processes in an organization to run smoothly. The problem with companies today is that they make their efforts by sticking too rigidly to a system of operation that they've been committed to for years. But, what they fail to realize is that even if their businesses are running efficiently, they're missing out on the opportunities to grow their business by not taking a more flexible approach to managing their cash flows.
Must Read: How Supplymint Transformed V-Mart's Procurement Journey
What is Supply Chain Flexibility?
Supply Chain Flexibility can be defined as the supply chain's ability to be responsive and react to change in order for organizations to meet the changing market demands. A flexible supply chain is both agile and adaptable. It is demand-driven and has the ability to respond to short-term changes in market demands which eventually evolve and improve to meet the ever-changing conditions of the market.
And since the overall pace of change and the level of dynamics in everything from commodity and oil prices to consumer demand and competitive threats are at all-time highs. Adding 'reduction in product lifecycles' to the picture clears the fact that we need greater flexibility in supply chains.
How to Attain a Flexible Supply Chain?
Well, there are 2 forms of supply chain flexibility:
– Agility
– Adaptability
Agility
Agility in the supply chain refers to how quickly a supply chain can detect and respond to short-term issues. A company with a supply chain that exhibits a high degree of micro flexibility can manage spontaneous problems and opportunities quickly and effectively. This includes resolving the late arrival of a delivery truck, a customer request for special packaging or handling, etc. On the basis of how quickly and effectively you manage these changes and needs is what defines your supply chain flexibility.
Did you Know? The Journey of Supply Chain Management from Recovery to Resilience
Adaptability
Adaptability in the supply chain basically refers to how easily a supply chain can change its existing supply chains or develop new supply chains to accommodate changing consumer demands. This includes the broader, overarching company strategies, programs, policies, etc. On the basis of how efficiently and easily you manage to adapt to these changes is what defines your supply chain flexibility.
How does a Flexible Supply Chain Deliver Value?
Here are the 3 key benefits that come with a flexible supply chain:
Tight Integration with Business Units and Suppliers
Integration of the supply chain with other functions in an organization is the rock on which flexibility is built because companies enter new markets and launch additional products, adding more and more suppliers and processes along the way. An integrated organization in such cases has the power to enable companies to map out their supply chain processes as products and services are designed. Now, one of the biggest concerns here is the extension of planning to external organizations such as contract manufacturers, third-party logistics providers (3PLs), and even customers.
That being said, one thing is pretty certain – Real Flexibility demands strong, collaborative relationships with key suppliers and supply chain partners in order to jointly address capability gaps and help mitigate supply chain risks.
Critical Collaboration
Leading supply chain organizations work closely with their strategic and core suppliers on issues ranging from financing to emergency contingencies to labor and environmental concerns. With all these factors in concern, collaboration seems like the best solution to enable organizations to better avoid risks, identify problems early, and resolve issues quickly.
It also goes without saying that visibility and collaboration require a high level of trust to openly share strategic and tactical information. This is why companies must ensure that sufficient focus and trust are in place before they begin to deepen supplier relationships. So, when demand changes all that a retailer needs to do is alert its suppliers and they will thereon make production changes so as to help lessen the bullwhip effect.
Insight: Demand Forecasting in the age of AI
End-to-End Transparency by Leveraging Technology
To quickly respond to volatile business demands, supply chain managers need information fast. That's where technology can help. In the past, suppliers employed disparate applications and data formats, which slowed the delivery of information to supply chain managers. But today, with the emerging technology standards, greater supply chain transparency and data analytics have been enabled at lower costs.
This explains why PwC's Global Supply Chain Survey found that over half of the respondents from the survey said that they are implementing or planning to add new tools for better process automation, efficiency, and transparency.
Conclusion: As cloud computing becomes mainstream, businesses are embracing the technology to take advantage of flexible and scalable platforms for data sharing. Increasingly, supply chain leaders are using the cloud to manage orders, shipments, and inventory across their entire supply chain, eliminating delays and improving service.
Recommended Read: The Evolution of Supply Chain Management
For more articles like "How to Attain Supply Chain Flexibility", follow us on Facebook, Twitter, and LinkedIn.