Outsourcing is a common business practice in which a company hires a party outside the company to perform services and create goods that were traditionally performed in-house. It is an effective cost-cutting measure because labor costs are rising and the use of robots for automation is increasing.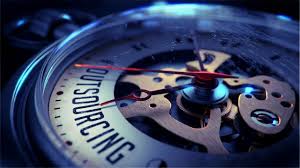 Talking about outsourcing in supply chain management, it is a practice in which a company outsources its entire supply chain management in order to minimize its overall cost, focus on its core competencies, meet customer demands effectively and attain greater flexibility in maintaining and operating its supply chain. But an important point to note here is that while your organization plans to outsource SCM activities, you'll need to take care of integration issues. Once that is taken care of and the third party organization has the expertise and prior experience, SCM can provide a strategic, tactical, and transformational advantage to your organization.
Strategic – Improving business processes, gaining access to world-class activities, and sharing risks.
Tactical – Controlling operating costs and making capital funds available for other uses.
Transformational – Bringing faster & new solutions to customers, responding to shorter product cycles, and tackling competitors.
Now, let's talk about some benefits of Outsourcing in Supply Chain Management:
Focus on Core Competencies
Supply Chain Management can eat up a lot of precious time of organizations which could have actually been spent on developing new ideas, marketing, strengthening customer relationships, and all other factors that are crucial for a company's long-term success. So, once you outsource the supply chain to a third party, it becomes easier for your organization to spend more time on building business and focusing on future strategies.
Competitive Advantage
Outsourcing Supply Chain gives you access to facilities, knowledge, and capabilities that were earlier inaccessible or unaffordable. This also lets you leverage resources in order to help you stay ahead of your competitors.
Reduced Overall Costs
Expenses on internal supply chain management can pile up and cause a financial strain on your organization associating with inventory, cold storage, sampling, overhead, and staffing, etc… So, hiring a professional organization for SCM can help you use their knowledge and expertise to reducing your overall expenses. The right supply chain partner streamlines logistics and establishes the most cost-effective plan that may include better inventory management and transport optimization.
Ensuring Customer Demands Fulfillment
Outsourced SCM partners take responsibility for supplying products as demanded by customers. They're responsible for raw material planning in a way so as to meet production schedules. And once these responsibilities are offloaded, businesses focus on spending more time on their growth and brand equity.
Flexibility and Adaptability
Outsourcing allows businesses to adapt to changes in customer demands quickly. Another plus is that when you outsource, you can expand or downsize faster, without having to worry about laborers and their laws.
Reduced Financial Risks
Outsourcing reduces the financial risks of the investment in equipment, property, and transportation.
Extended Resources
Outsourcing can bring extra capabilities, solutions, and expertise that go beyond the scope of your business.
An important step in the outsourcing process is decision making. And the steps in decision making include: analyzing technological trends, assessing strategic alignment & core competencies, cost analysis, and considering non-cost factors. Other aspects include the involvement of suppliers, the supplier base, single vs multiple sourcing, and local, national, or international sourcing.
Not to forget, there are different forms of outsourcing in the supply chain, namely – vendor managed inventory, third-party logistics providers, and fourth part logistics providers.
For more articles like 'The Role of outsourcing in supply chain management', connect with us on Facebook, Twitter, and LinkedIn.