Supply chain management in basic terminology means the management of the flow of goods and services, money and information, movement and storage of raw materials, work-in-process inventory, and finished goods along with end-to-end order fulfillment from the point of origin to the point of consumption.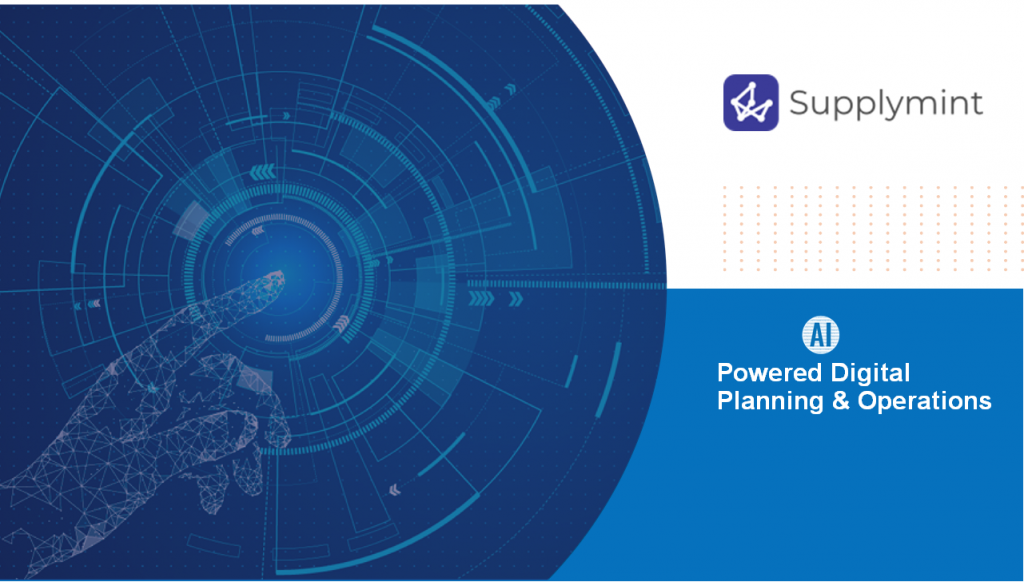 SCM can also be understood as the network of all individuals, organizations, resources, activities, and technology involved in the creation and sale of a product. It encompasses everything from the delivery of source materials from the supplier to the manufacturer to delivery to the end-user.
Now, you're probably wondering why we're discussing the basics of supply chain management. Well, that's because we're about to introduce Supplymint to you which is a 21st-century digital solution for smart supply chains.
Introducing Supplymint
Supplymint is an end-to-end retail distribution management platform that encompasses digital management of all supply chain processes. From procuring goods through the vendor's catalog to raising POs, tracking shipment, and vendor management. It brings together the forces of demand forecasting as well as replenishment planning using technology that is powered by Artificial Intelligence and Machine Learning.
Significance of Supplymint
Although digitizing supply chains are becoming more important post the pandemic, Supplymint began helping companies in 2017 itself. Powered by AI and ML, Supplymint is a cloud-based solution that is available on both iOS and Android. The product provides its users with a high level of customization, seamless integration with ERPs, dedicated portals for Retailers, Vendors, and Customers, a technology that adapts to ongoing user trends, complete transparency throughout the supply chain, multi-level hierarchy mapping, user-centric interface, power analytics and insights, and way much more.
Introducing Supplymint Modules
So far, you've only got a glimpse of what Supplymint has to offer. But now, it's time we introduced all its modules and what each of them is focused on.
DigiPlan for Demand Planning and Inventory Planning
DigiPlan takes demand planning from a tedious task to automation at your fingertips. It replaces the traditional methods of forecasting or predicting demand with new, evolving, and digitized solutions that ensure delivery and satisfaction to consumers. With DigiPlan, you need not worry about striking a balance between having sufficient inventory levels to meet customer needs without having a surplus or insufficient stock.
This module of Supplymint understands what users will need in the coming days or months which is not such an easy task. But it anyways works around predictions in order to know what to sell to customers to ensure maximum satisfaction and production efficiency. DigiPlan's AI-based forecasting technology ensures that your demand planning never goes wrong and that a companies forecast accuracy increases rigorously.
DigiProc for Procurement
DigiProc is a Supplymint Module specifically designed to cater to all procurement needs of an organization. Once you have the right demand forecast, the next step for you is picking the right vendors to get the job done. For this, you'll want someone reliable to work on your product. And to make this decision, the panel for DigiProc can help you in no time. It projects the list of all your best vendors and their specialties after analyzing their past performances, lead time, OTB balance, etc. This in turn makes it easier for you to select the right vendors. Once the vendor is finalized, you can digitally create an indent through Supplymint's DigiProc module and wait for your buying team to approve.
DigiVend for Vendor Management and Collaboration
DigiVend is a solution for retailers and vendors to leverage control over each other with the use of automation. For retailers and vendors with vast lists of purchase orders, DigiVend's completely transparent panel conveniently tracks the supply chain process of each PO. It replaces the traditional need for more personnel and efforts with real-time visibility throughout inspections, advance shipment notices, invoices, shipment tracking, gate entry, and GRC.
DigiARS for Automated Store Replenishment and Smart Allocation
DigiARS is an AI-powered software solution that automates replenishment and takes care of the allocation of stock to stores. It allows its users to map items with their respective warehouses and replenish them automatically based on the selected assortments.
The allocation is processed in such a manner that all the calculations based on the present, past sales, item master, stock master, site master, stock turnover ratios, details of the warehouse are done automatically, and accordingly, replenishment and scheduling are taken forward.
For more updates on "Supplymint Modules, Latest Supply Chain Trends, and More", follow us on Facebook, Twitter, and LinkedIn.