Over the past decade, with a rise in the use of cloud-based products and solutions, we've witnessed more advancements in the industry, featuring broader scale and expanded possibilities. Talking about the adoption of cloud computing, we understand how tough it can get for you to make a firm decision about cloud services and its providers. So, we'll make it a little easier for you.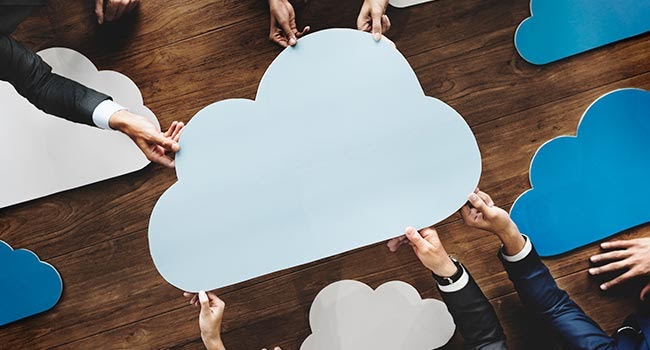 Once you've made up your mind about adopting cloud computing, it's time to begin your search for a cloud services provider. If you're wondering what a cloud service provider company does, they offer one or more pieces of cloud computing functionality including SaaS, PaaS, and IaaS that helps in easing the organization's operations.
Must Read: What is the Possibility of Cloud Computing in the Public Sector?
Now, when you're looking for a cloud service provider you'll also discover that there's a very large number to choose from. Cloud service providers have made their way into a wide breadth of verticals and industries so how do you know which provider is the right one for your small business? To help you evaluate which provider would be the best to offer cloud computing solutions, we've listed some questions below that can help you narrow down your options.
Q1. How can I add cloud services to my business?
Start with the basics. Every provider gives you their own interpretation of how their services can lift your growth with cloud computing but you need to gather precise information before you enter into an agreement. Sometimes, you might require solutions for a limited number of operations and other times you might want solutions for plenty. This is why, it is essential for you to understand exactly how a cloud service provider can help you. For example, many enterprises think that they just need help in migrating their data and applications onto the cloud, but later realize they also want to add automation to their workloads. But since the initial agreement only covers the services you start with, understanding how adding services affects your partnership in terms of cost and support can be crucial.
Q2. What security services do you provide?
Keeping your data safe is the first thing that you must look out for. So, when you incorporate a managed service provider into your cloud deployment, you'll need to make sure that they have strong security systems. Every service provider has native security protocols and strategies in place to protect your cloud environment from both internal and external security threats and you must be aware of them before you make a decision. This also applies to data compliance. You must ask managed service providers to disclose any and all data regulations that they are able to comply with.
Also Read: Microsoft Has Rolled Out New Tech to Connect its Cloud to Rivals
Q3. Do you support hybrid or multi cloud computing?
A lot of enterprises today are designing hybrid cloud and multi-cloud infrastructures. So, you need to make sure that your potential managed service provider supports these deployments. While some providers only support one public cloud vendor, others manage multiple cloud providers. Similarly, there are also some cloud providers that are able to manage your on-premise infrastructure in addition to the cloud. So, knowing what an MSP supports will help you determine which providers will work better for your company.
Q4. What does your growth look like in the immediate future?
The cloud managed services market is still in the baby phase, which means that most managed service providers are likely to expand their business within the upcoming years. So, as providers continue to grow, businesses also need to know what their potential managed service providers have to offer, what additional services are they planning to offer in the future, and when do they intend to deploy them. Knowing their roadmap allows you to know what they can and can't provide immediately.
Q5. Is it easy to switch cloud managed service providers?
For any business, it is important to keep some backup ideas in mind in case a managed service provider does not seem fit for their organization. In such cases, the cost of moving from one provider to another could be high and this why an MSP's exit strategy should by outlined in their service level agreement (SLA). This lets you know how the service provider will assist your enterprise in successfully transitioning away from their services without any interruption.
Recommended Read: Benefits of Cloud Computing for International Businesses
For more articles like "Questions to ask your cloud service providers", follow us on Facebook, Twitter, and LinkedIn.