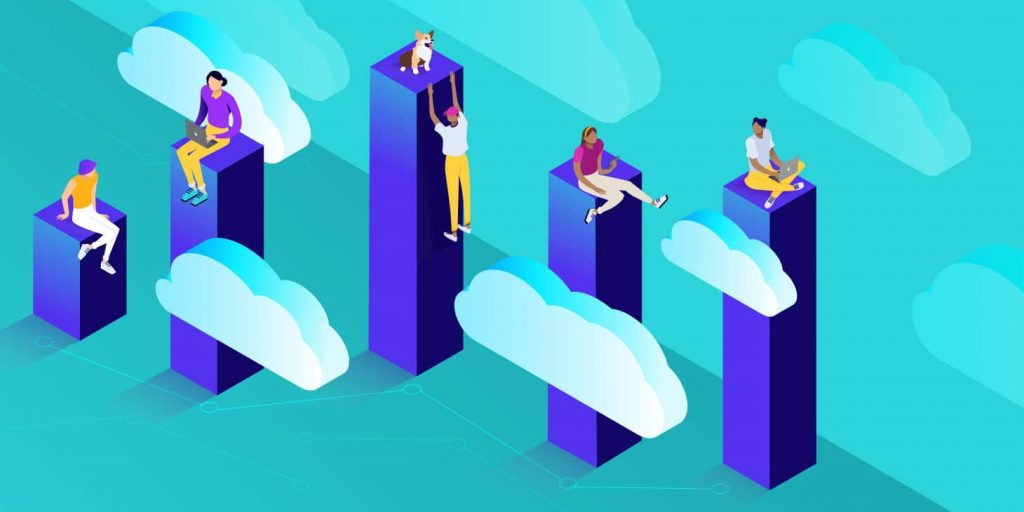 While some believe that cloud computing isn't right for all companies, we believe that an increasing number of enterprises can benefit from it. To reason why we believe so, today we'll show you some examples of companies that succeeded using cloud computing services.
For a company to understand why cloud computing is beneficial, here's an overview of how cloud can grow a business:
Increased productivity – A cloud connection means that businesses need not rely on individuals to perform complex tasks and can instead distribute a job to collective specialists to make data processing more efficient.
Updated version of all files – Cloud storage helps businesses in backup systems work which usually take a very long time done manually. The constant updating of files in cloud-based technology ensures that the 'shadow' period for data is a matter of seconds.
Secure storage of data – Cloud security measures are way more dynamic than companies that run on their own on-premise backup storage servers.
Better collaborations – Since cloud systems are not tied to particular hardware locations, it is accessible from anywhere. This allows multiple individuals to use stored documents.
Increased automation – Cloud tech is a godsend for cutting down workload. It allows companies to automate tasks like posting on social media, sending out updates on email subscribers, etc.
Cost-effective Solutions – The best part about using cloud technology solutions is that it offers in-depth support for products in low costs.
Growing companies on cloud:
Now let's take a look at how companies have used cloud computing to their benefits:
eBay
People who use eBay usually expect the website to give a reliable performance and show listings for almost anything. But if in case the website crashes at a time-sensitive moment, people will miss out on the opportunity to place their winning bids and the bad customer experience will lead to a decrease in the number of people relying on them. So, when eBay moved its marketplace of over a billion listings, it recognised the task as a substantial undertaking.
Its transition to cloud solutions took 5 months to complete and this feature got to the production-ready stage so quickly that the company found itself nearly 6 months ahead of its schedule. Over the years, eBay has grown a lot better and is now a marketplace that is trusted by millions.
Kroger
Kroger is a grocery retailer that has thousands of projects in the cloud, just between live products and those in the testing and development stages. It is now a successful data-driven grocery shopping platform that uses the technologies of AI and ML to keep customer needs in mind.
Airbnb
Airbnb, like most of you know, is an online hospitality service company that allows property owners and travellers to connect with the purpose to rent out spaces anywhere across the world. This company took up the idea of using cloud computing after service issues with its original provider.
The company has since been able to ramp up more servers without having to contact or go through anybody and that too, without committing to a certain minimum usage. The entire database migration for Airbnb only took 15 minutes of platform downtime, which is a lot better than suffering with unexpected downtimes at any time of the day or night.
Fitbit
A leading smart watch brand, Fitbit struggled in the growing amount of competition in the market. But 2019 was their breakthrough year. The company's representatives understood that the way to reinvigorate the brand was to make it more appealing to people. This is when the company decided to foray into cloud computing with a health-centric cloud business that allows people to share their health data with health providers. This gave the company a chance to compete with Apple, which is quite a renowned brand worldwide. Although the company's gains do not entirely depend on cloud innovation, but that is a factor that has helped the company in standing out.
So now, anyone who wants to share their records via Fitbit's cloud computation gets the access to a dedicated place to store their content. Following this, providers have another interface to view the data and can also monitor patients remotely or by scheduling appointments using the platform in cloud.
For more updates, stay tuned with us on Facebook, Twitter, and LinkedIn.