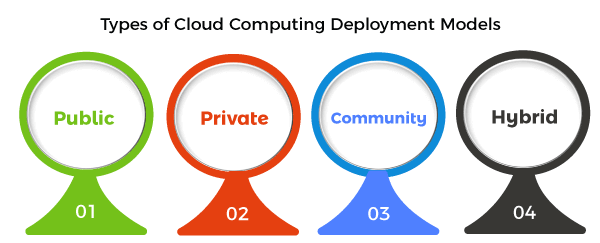 Today, almost every organization is switching to cloud for better efficiency, scalability and quick performance. Businesses want to grab more exciting opportunities and build their company with the help of the cloud. They want to become completely digital and achieve their long term goals with the help of the cloud.
The main challenge that arises when switching to cloud is to decide on a cloud model that is an ideal fit for their business and aligns with the company's needs and wants. If a wrong model is chosen then it can create more troubles than helping the business. Wrong type of model may lead to huge cost, issues in performance, scalability etc.
So, it becomes important to explore and find a perfect fit for the company that can help in its growth and solve various problems.
Read more: 4 Myths of Cloud Computing
Different type of cloud computing deployment models:
1. Public cloud:
The functions of a public cloud are similar to its name. This cloud is accessible to everyone who has access to systems and services. This type of cloud may be less secure as it is open to everyone. In the cloud model the services are provided over the internet to the general audience of industries. The infrastructure is owned by the cloud service providers and not the consumers. This type of cloud easily allows consumers to access systems and services.
Suitable for:
This type of cloud model is suitable for companies that do not have any security concerns. It is perfect for the organizations that have fluctuating demands. The organizations' choosing this type of cloud is basically paying cloud service providers for computer virtualization, network servicing and storage available on the public internet. This model's configuration and deployments are easy and quick so it makes testing and development.
2. Private cloud:
As the name suggests, this cloud is the complete opposite of the public cloud deployment model. This cloud offers one on one environment for a single user and the user does not have to share their hard drive with anyone else. This means that the cloud will be integrated with the data center and managed by the IT team. No, public users are allowed but the company can give access to new and third party users.
Suitable for:
This is suitable for companies that have high concern for their privacy and cost. The companies get good control over their data and resources.
3. Community cloud:
This type of cloud is similar to public cloud with an exception, it allows access to only those users that have common objectives and use similar cases. This type of deployment model of cloud is managed or hosted internally or by a third party vendor. The company also has an option of choosing from all three options.
Suitable for:
Community cloud is suitable for organizations that have lower budgets because this one is cheaper than public and private cloud with great performance. It is used by companies that have similar requirements like federal agencies will have similar requirements related to security levels, audits and privacy.
4. Hybrid cloud:
This cloud is the combination of two or more clouds, as the name suggests. Each model in hybrid cloud functions differently but they all are a part of the same architecture. Further, as part of this deployment of cloud computing model, the external and internal providers can offer resources. For example: a company that has a mixture of information will use different types of clouds for different functions. Their private information will be saved on a private cloud; their less sensitive information will be saved on a public cloud.
Suitable for:
It is suitable for organizations that are flexible and have different types of needs. Their different needs can be fulfilled by this cloud model.
A company can choose their cloud according to their needs and business functions.
For more articles like "Top 4 types of cloud development models you should be aware about", follow us on Facebook, Twitter, and LinkedIn.